Shrug Emoji: What is Shrug Emoji? Know All About Shrug Emoticon: A shrug emoji is an emoticon that indicates a gesture performed by a person raising both shoulders.
The emoji can be used by the person on Social Media websites or Instant messaging apps to indicate either not knowing an answer/information or being indifferent about something.
It is popular in Western countries. People perform a shrug rather than saying "I don't know." In fact, Shrug Emoji was not started in English.
It is taken from Japan, which is known as a "kaomoji" or "face mark." The characters used in this emoji are taken from the katana alphabet.
Many people think that it is an emoji represented with dashes, slashes, and underscores; but, not as they thought.
Have you ever tried to type shrug emoji on your standard qwerty keypad? It is tough to type a shrug emoji on it.
The shrug emoji is the number one emoticon on the internet for years. This happened because of such emoji marketing activities on mugs, t-shirts, caps, and many other accessories.
Many people search and copy the shrug emoji from the Google search engine by searching it or other websites as they find it in them and when they get it, they embed it in their text or instant messages. It isn't delightful when we are doing it on our smartphones.
For this, you have to learn how to create it using your device keyboard/Keypad. So, we suggest you type the shrug emoji on your smartphone using your keypad and save it in your phone's autocorrect dictionary. It's that simple.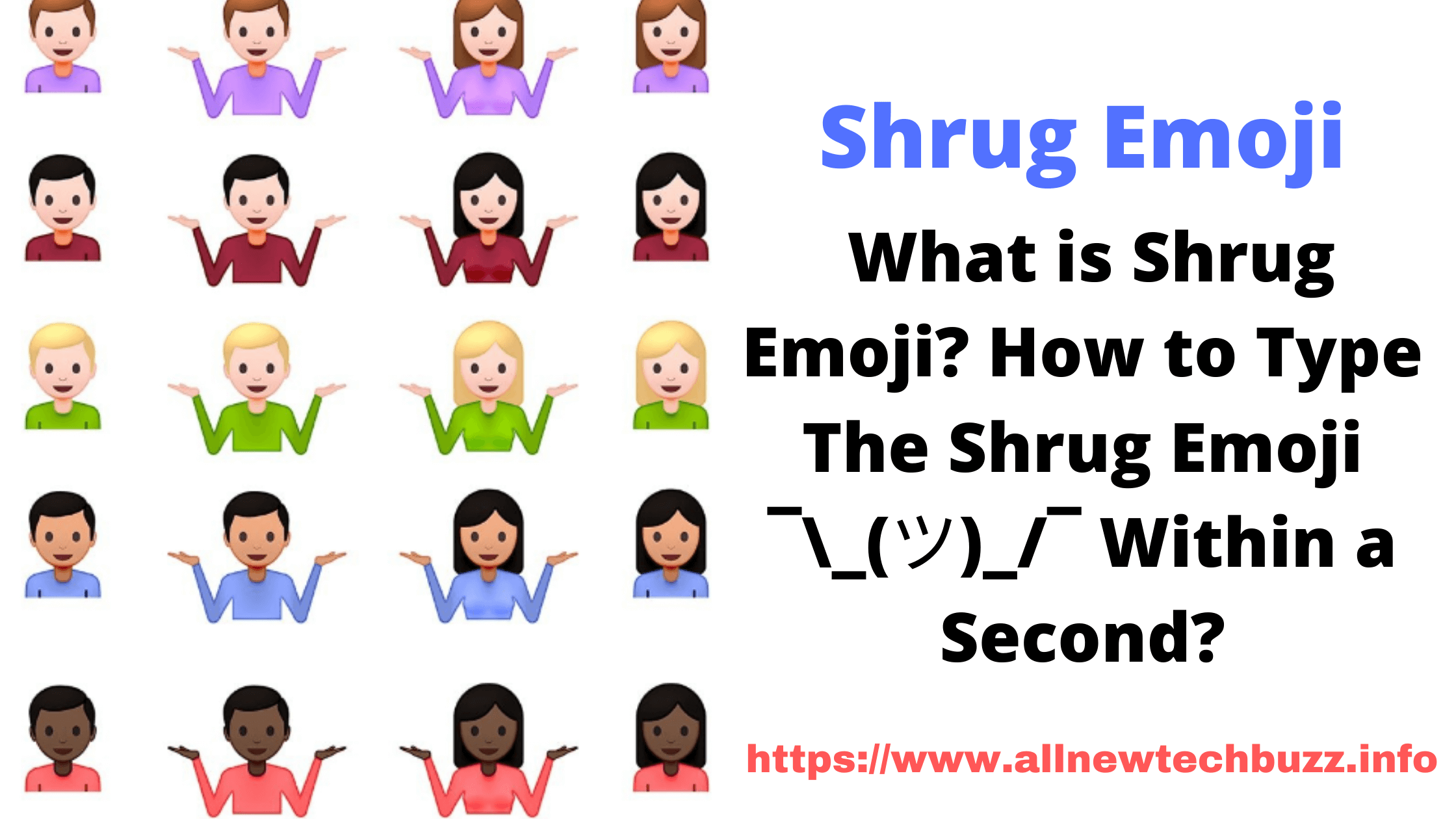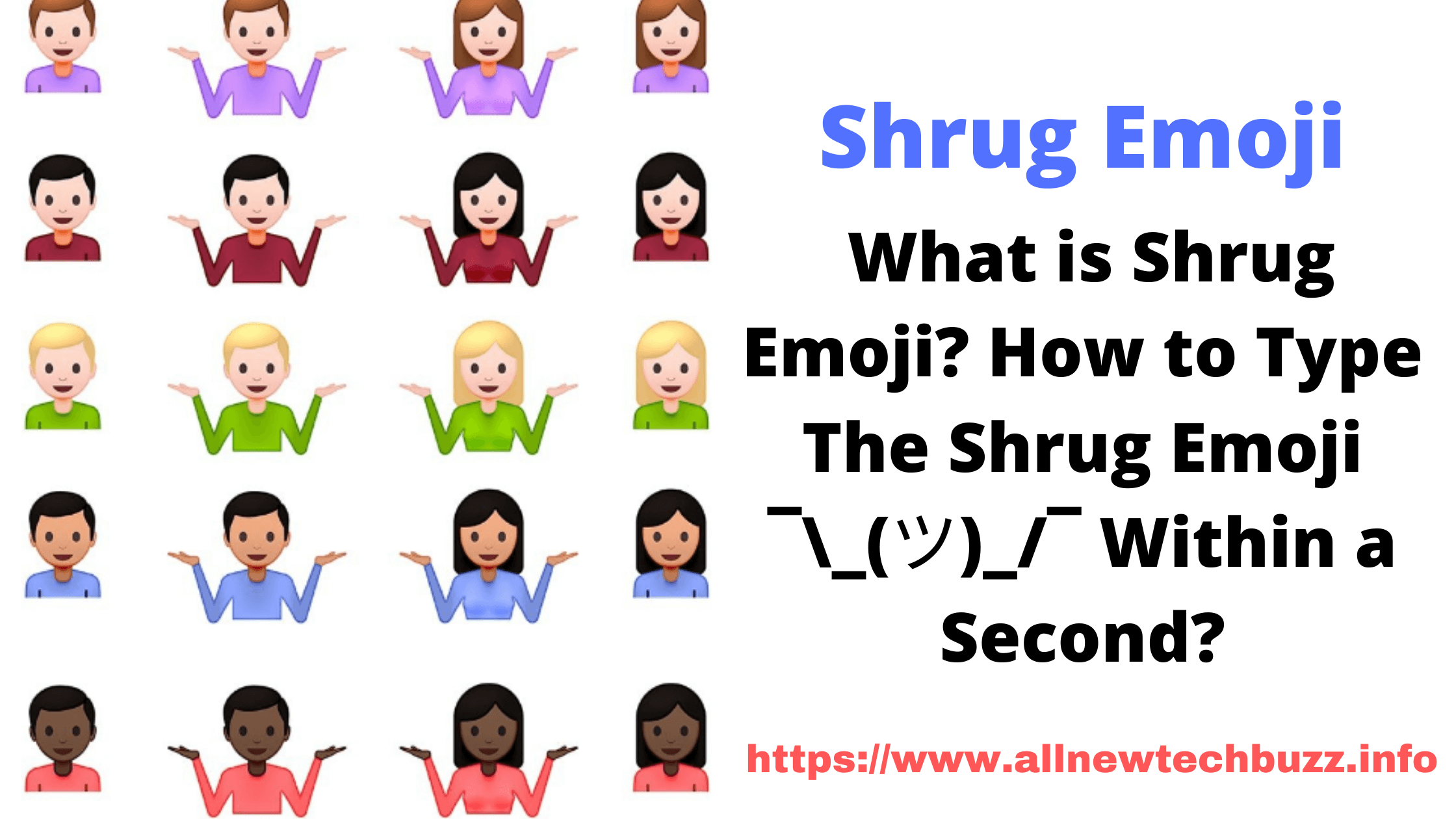 Also Read:
SHRUG EMOJI ON THE ANDROID
Copy "¯\_(ツ)_/¯"
Go to the "Settings" option.
There you will find "Language & Input". Open it.
Tap for "All Languages".
Select the "+" add button
Type "shrug" in the Shortcut field.
Now, paste "¯\_(ツ)_/¯" in the Type a Word field.
SHRUG EMOJI ON THE IOS
First of all, sync keyboard preferences between your iPhone and Mac, if you have done it correctly then you're good to go! Now, you can seamlessly sync the shruggie.
Open "Settings".
Open "General" and select "Keyboard".
Open "Shortcuts".
Tap on the "+" plus symbol, and you will find it on the top right corner of the device's screen.
Type the shrug "¯\_(ツ)_/¯" in the shortcut field.
"Save" it, and you're done.
SHRUG EMOJI ON THE MACOS
If you want to make the shrug emoji emoticon work on your Mac, then you have to follow the below-provided steps.
Copy the "Shruggie".
Go to the "System Preferences" option.
Select "Keyboard."
Click on the "Text" button.
Type "shrug" or "shruggie" on the box "Replace."
Now, type ¯\_(ツ)_/¯ in the "with box"
That's all, you're done.
You may also like: 
SHRUG EMOJI ON THE WINDOWS
If you need Shrug Emoji on Microsoft Windows, you might know that this operating system does not have an autocorrect feature. But, you can download and install EXE software like Phrase Express to configure text replacement shortcuts. This is the way you can type the Shrug emoticon on your Windows PC or Laptop.
The truth about this emoji is, that no one knows the exact time when this emoji was created and got popular. People are using this expression for centuries, later it was understood by people that it can be used as an Emoticon.
The easiest way to type this emoji on any of your devices is to copy and paste it. For some people who use it often, copying and pasting it every time may not be convenient. Most of the mobile phones that run on platforms like Google Android, and Apple iOS operating systems provide a shortcut to replace the text entered by the users as part of their self-optimization features.
I hope you understood this post on "how to type the Shrug emoji on your PC/Laptop and smartphones."
If you face any problem in typing or copying the Shrug emoticon, let us know in the comment section provided below the article. We will help you to get it.
If you feel the article is helpful, please share this on your Social Media accounts/profiles in order to share the knowledge with your friends.