What is a fortnight and how long is a fortnight: The meaning of the fortnight is "a period of two weeks i.e; 14 days." the word is derived from the old English term "fēowertyne niht" and the meaning of the word is "fourteen nights."
Some countries follow a fortnightly basis in terms of paying salaries and wages.
Meaning of Fortnight
Fortnight is the term that is popular and widely used in the sports industry – since many major Sporting events last about half a month or two weeks. In Wimbledon tennis and other Grand Slam competitions, are played for two weeks and usually last up to a week. Summer and until the winter Olympics take just over two weeks and can also be discussed in this context. Similarly, all the other activities in the world of sports may also fall under this time period.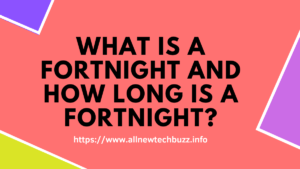 You may also like:
How to deactivate Telegram account permanently or temporarily
Find My Friends alternative for Android
Indian Web Series on Netflix and Amazon Prime Video
FAQ's
Below, we have provided the answers to some of the frequently asked questions. Read them all.
1. What is the origin of the word fortnight?
The word fortnight it is derived from the old English word, fēowertyne niht. The meaning of the word is 14 Nights. The word fortnight is used in the UK and its colonies. In the United States, the word fortnight is termed in the context of the meaning two weeks, for example, "The 12th of August is in two weeks' time."
2. How long is a fortnight?
Fortnight is considered as 14 days and nights or two weeks.
3. When can we use the term fortnight?
We can use the terms "in a fortnight" or "a fortnight's time" while referring to an event that will be going to happen in two weeks. For an instance, "the Robinhood movie will be out in a fortnight's time," or " we are going on holiday in a fortnight."
4. How many hours in a fortnight?
There are 336 hours in a fortnight.
5. How many minutes in a fortnight?
There are 20,160 minutes per week. It means, that a fortnight has 2 weeks, and the total number of minutes in a fortnight is 40,320.
6. How many fortnights are there in a year?
There are 26 fortnights in a year.
The term fortnight is often used to refer to something that happens regularly every two weeks; for instance, fortnightly wages. In some countries, wages tend to be paid weekly or on a fortnightly basis while salaries are to be paid monthly.
If you like this informative article please do share it with your friends on social media apps and websites. If you have any queries or if you want articles that you are interested to read and to let our readers know or share your views on this article, reach us through the comment section provided below the article.