Install Roblox on Macbook Air
Do you want to install Roblox on Macbook Air? Here you go!
Roblox is an online gaming platform. It can be installed on many devices which means you can access Roblox on VR, Windows PC, Mac, iOS, Android, Xbox One, Amazon Devices, HTC Vive, & Oculus Rift. 
This article helps you as a guide on installing Roblox on Mac devices (MacBook Air & MacBook Air Pro having macOS).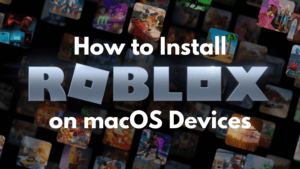 1. Log in to Roblox Using Username & Password
Open the Roblox homepage on your web browser i.e; https://www.roblox.com
Enter your login credentials i.e; username & password.
You May Also Like
2. Download Roblox On MacBook Air Devices
At the top of the menu, you will see the "Games" option. Click on the Games link.
Click on "any one of the games" listed.
Click the "Play" button for the game you have chosen to play.
A dialogue box will appear on the screen. Click on the "Download and Install Roblox" button.
The download of the file named "roblox.dmg" will start.
3. Install Roblox On MacBook Air Devices
The roblox.dmg file will be downloaded and saved in your web browser's download path.
Open downloads on your web browser. You will see the "roblox.dmg" file in the downloads folder in the "This PC" section.
Double-Click on the "roblox.dmg" file to run the "Roblox installer", which you have downloaded just before using your web browser.
Click on the "Roblox app" icon to initiate the installation process.
Click on "Open" when it is displayed on your device screen.
Once you have successfully installed it, click on "Okay" if prompted.
Now, you have successfully installed the Roblox app on your macOS device (MacBook Air, MacBook Air Pro). Click on the "Play" button that you can find below to join the millions of gamers on the platform and play games from there itself.
Other Related Articles
Note: You have to install Roblox separately for each user on your device. There is no need to install it again if you are the only one who uses your macOS device. You have to follow the above-provided steps to install Roblox on macOS devices for multiple users.
I hope you like this interesting & helpful article. If you feel this article will help your friends, please share this article with them on your social media accounts & profiles.
If you have any doubts related to this article or if you are getting any errors when you are installing Roblox on your MacBook devices, let me know through the comment section. We will come up with a solution that may help you.