How to create an Instagram account: Instagram is one of the most popular social media platforms on the internet. The social media giant allows us to post or share photos, and videos and create wonderful visual stories using smartphones. It allows you to shoot anything you want and share it on the platform to get feedback from your friends and followers.
Creating your Instagram account will provide several opportunities for you. It is the best place to find social media influencers, photography enthusiasts, brands, and content creators.
You can also promote your content and products. Many social media experts say that marketing your content and products on Instagram is much more efficient than on other social media platforms. It helps in diverting high-quality traffic and growing your business.
Here in the post, we provide two ways to create an Instagram account – Using your Personal Computer(PC)/Laptop or Smartphone/Tablet.
You may also like: 
How to create an Instagram account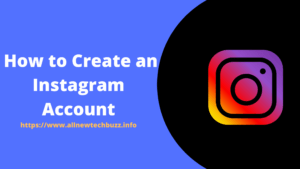 Personal Computer (PC/Laptop)
It's effortless to create an Instagram profile or page using your Personal Computer (PC/Laptop). It will take a short time to create. After the profile creation, you can start growing your profile by adding your details to the Bio section and uploading images/photographs.
1). Open your web browser on your PC or Laptop, and search Instagram on Google. You can also open Instagram's homepage URL provided below.
Similar to smartphones, you can also create an account using your email address, mobile number, or a Facebook account on your PC (Desktop/Laptop).
2). You will find the "Sign up" option. Click on it.
3). Enter the details that are required and click on Sign up.
4). Now, your Instagram account is successfully created.
5). Now, Tap the user icon from the top-right corner to access your account (Profile/Page).
6). It will display various options to configure your Account (Page or Profile). Click on the relevant options or buttons to upload your photo, add a phone number, and connect to Facebook.
Smartphone/Tablet PC
1). Take your smartphone and turn on your Data connection or Turn on the WiFi. Open Google PlayStore (Android) or AppStore (iOS) and search for 'Instagram.'
2). You can see the official Instagram app on top of the search results. Click on 'Install' next to it. It will take significantly less time to install on your phone.
3). After installation, you will find the Instagram icon on your smartphone's home screen on the apps list.
4). Now, tap on the Instagram app icon.
5). It lets you create an account using your email address, and phone number, or connect via a Facebook account. Choose the 'Sign up with email or phone number' option.
6). Enter your email address or mobile number manually along with the country code to sign up – Hit Next to proceed. A new window will open, there you have to enter your full name and set a password for the account.
7). Click on 'Continue and Sync Contacts.' At this moment, if you don't want to connect with your friends, you can also choose 'Continue without Syncing Contacts.'
8). You will see a welcome message with your username on the screen.
9). Click 'Next' to link your Facebook account to your Instagram account. It makes you let your friends know about your presence on the photo and video-sharing social networking site. Choose 'Skip' to exit your current screen and proceed to the next step.
10). Now, click the 'Add a Photo' button to select your image as your profile photo.
It lets you set your profile picture in three ways- take a photo instantly, choose from your media library or import it from Facebook. After setting up your profile picture, it will take you to the Instagram home feed.
11). Tap the user icon on the bottom-right corner of the screen to view your Instagram account (Profile or Page).
12). From this window, you can customize your profile, add your bio, and find people/pages and brands/businesses that you might be interested in following.
I hope you easily learned how to create an Instagram account using a desktop/laptop or mobile phone/smartphone. If you have any doubts about the post, let me know without hesitation in the comment section below. Do me a favor, please do share this post with your friends on your social media profiles.
Here is some search queries people search for instagram account kaise banaye 2022, instagram account kaise banaen, how to create an instagram business account, How to create an Instagram account for a business, How to create an Instagram account from a facebook page, How to create an Instagram account without phone number, How to create an Instagram account for a non profit, How to create an Instagram account for my dog, How to create an Instagram account with multiple users, How to create an Instagram account through facebook, How to create an Instagram account with the same email, How to create an Instagram account for a group. We will publish articles related to these topics in the coming days. 
Disclaimer: Images & Logos are owned by their respective brands/companies. We have used their images/logos for representation purposes only.