15 Seconds ADB installer: 15 Seconds ADB Installer is an all-in-one installer software/tool that allows to quickly install or setup latest Android USB drivers on Windows PCs/Laptops. You can install the ADB installer on Windows 11/10/8.1/8/7.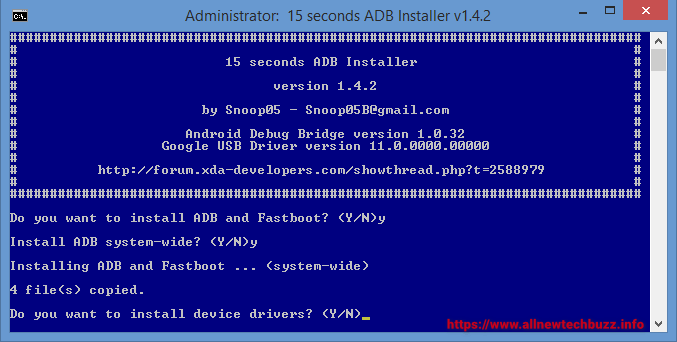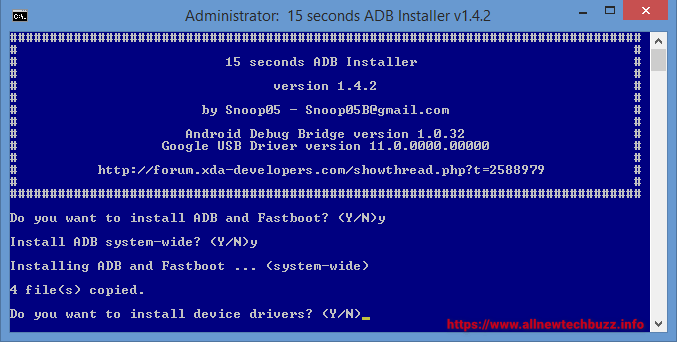 Features of 15 Seconds ADB Installer XDA
ADB Fastboot and Drivers
It contains the minimal size of ADB (Android Debug Bridge) and fastboot driver. It's based on the latest Android SDK (Software development kit).
Fast installer
It allows you to install ADB (Android Debug Bridge) and Fastboot files from the latest Android SDK (Software development kit) on your computer/laptop in less than 15 seconds (in many times it takes less than 15 seconds).
Smaller File Size
The size of the tool/software is about 9.18 MB which you can download and install on your Windows PC or laptop quickly and easily. You don't need to download the large size of SDK package on your computer as it is based on the latest Android SDK (Software development kit).
Quick and Easy Install
As it allows you to install the ADB and fastboot drivers on your Windows computer easily, you can install it within a few clicks only.
For this, just download the version that is compatible with your Windows operating system version from the provided links in the article and extract the downloaded zip files on your computer.
After the completion of the extraction, double-click the .exe file to install and launch the application. Follow the step-by-step instructions guide displayed on the screen to install it.
Also Read: Google Stadia: Google's Cloud Gaming Service
Also Read: What is Web Hosting and types of Web Hosting?
Download 15 Seconds ADB Installer (ADB setup) for Windows 11/10/8.1/8/7
Use the download links provided below directly to download the 15 Seconds ADB installer software/tool on your Windows computer. All files are available free to download, before installing the downloaded file we recommend you scan the file with any best Antivirus software that you use.
Read the Antivirus list that we have provided at the end of the article below to get an idea of Antivirus software that is available on the Internet.
Additional Information:
Credits: ADB installer tool/software is developed and distributed by Snoop05 (Senior member of XDA developers). So, full credit goes to them for providing us the 15 Seconds ADB installer for free.
Compatibility: It supports most of the Windows (32 Bit or 64 Bit) versions that include Windows XP, Windows Vista, Windows 7, Windows 8, Windows 8.1.
How to Install: If you don't know how to install the ADB installer setup and want to learn how to do it on your Windows computer, then open, read, and follow the How to install ADB Installer page.
Error: If you encountered an error while installing ADB Installer, then try to install the v1.3.0 version. Before you install v1.3.0, make sure that you uninstall all the previous Google USB drivers in order to install the new.
Help: If you are not able to install the Installer or if you are facing any error in the process of installing the Installer or if you have any queries/questions related to this post, you can ask us through the comment box that provided the article below. We will try to sort out the solution for your problem and try to give you the answers to your questions/queries as soon as possible.
USB Drivers: If you are looking for any other USB Drivers for your Android device then visit the GSM Drivers page. There you will find the original USB drivers for all Android smartphones and tablets.
Alternative: There is an alternative to the ADB installer that is Universal ADB Driver. You can use it when you are not able to install any version of the ADB installer. You can give it a try when things don't work. The main use of the Universal ADB driver is 'It also allows users to connect any Android device to their computer/laptop without installing the PC suite of that particular Android smartphone/device.
(Note: Here are some best Antivirus software arranged in alphabetical order that you can use on your Windows PC/Laptop.)
Avast Free Antivirus
Avast Premium Security
AVG Antivirus FREE
AVG Antivirus
AVG Internet Security
Avira Antivirus FREE
Avira Internet Security
Bitdefender Antivirus Free
Bitdefender Antivirus Plus
Bitdefender Internet Security
ZoneAlarm PRO Antivirus + Firewall
ZoneAlarm Extreme Security
Immunet
ClamWin Free Antivirus
Comodo Antivirus
Comodo Internet Security
Dr.Web Anti-virus
Dr.Web Security Space
ESET NOD32 Antivirus
ESET Smart Security
F-Secure Antivirus
F-Secure SAFE
Kaspersky Anti-Virus
Kaspersky Internet Security
Kaspersky Total Security
Malwarebytes
McAfee Antivirus
McAfee Internet Security
Windows Defender
Norton Internet Security
Spyware Doctor with AntiVirus
Panda Antivirus Pro
Panda Internet Security
Panda Antivirus Free